When I finished Fredrick Backman's A Man Called Ove, I immediately blew through all his other books.  My favorite part of reading is discovering a new author to love.  I was finished though, sad I ate all my candy in one sitting, and very much looking for more books of that type.  So, I was delighted to come across website "What Should I Read Next?"  Type your favorite book into their search engine, and their database will generate a list of related book recommendations. 
You can also browse by category, depending on your mood.  Their blog features author interviews and latest releases, and their Quotes generator is super handy if you say, need a quick monkey quote for some students…
Finding a home for your book obesssion
I recently made the tragic mistake of joining households with a fellow book lover, which took an already perilous situation and multiplied it by two (and surely, isn't that the definition of any relationship?)  After some heartbreaking decisions, several trips to the donation center, some internet research, and bit of rearranging, we've found a home for our most prized collections.
Here's one trick that's working for us: bookshelves behind furniture.  (Notice all the boy books, I'm nothing if not compromising, especially when I negotiated the entire office…)
And here is one of many sites you can find on the internet with a simple "books for small spaces" search.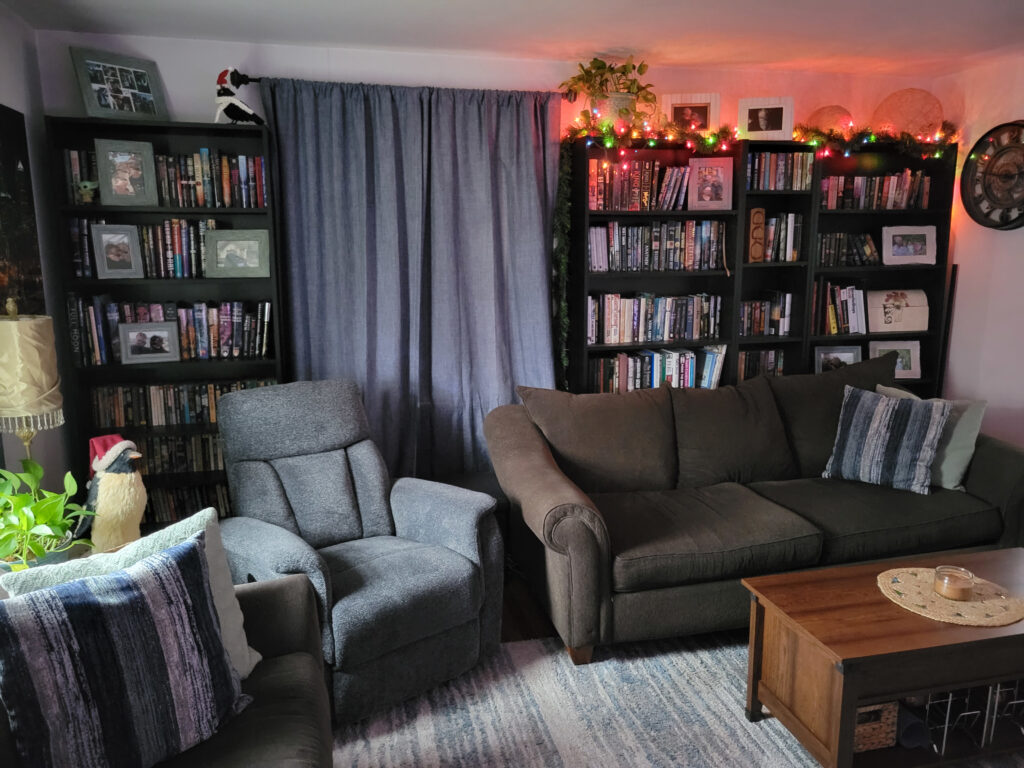 Paperbacks, hardcovers, eReaders—reconciling the dilemma
Ok, so I'm lying about the whole "reconciling" thing, since I still can't figure this out!  But here's what I have so far…
| | | | |
| --- | --- | --- | --- |
|   | PAPERBACK | HARDBACK | eREADER |
| Portability | X |   | X |
| Shelf swag |   | X |   |
| Smell | X | X |   |
| Comfort | X |   | X |
| Durability |   | X | X |
| Lowest electrocution risk | X | X |   |
If you HAVE solved this particular logic puzzle, let me know!